Perry A. Zirkel, Ph.D., J.D. LL.M. And His Current Webinar Offerings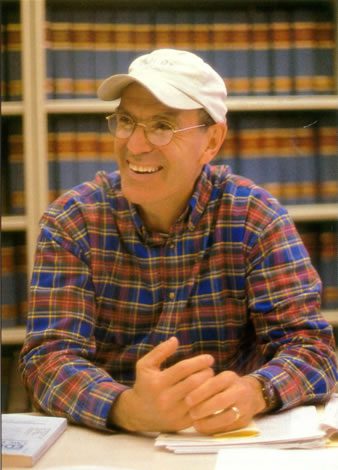 Dr. Zirkel is University professor emeritus of education and law at Lehigh University and formerly was dean of the College of Education, holding the Iacocca Chair in Education for its five-year term. He continues to co-direct the Lehigh Special Education Law Symposium. He has a Ph.D. in Educational Administration, a J.D. from the University of Connecticut, and a Master of Laws degree from Yale University. He has written over 1,500 publications on various aspects of school law, emphasizing legal issues in special education. He writes a regular column for NAESP's Principal magazine and NASP's Communiqué newsletter, and he did so previously for Phi Delta Kappan and Teaching Exceptional Children.
Past president of the Education Law Association and co-chair of the Pennsylvania special education appeals panel from 1990 to 2007, he is the author of the CEC monograph The Legal Meaning of Specific Learning Disability; the more recently published books, A Digest of Supreme Court Decisions Affecting Education and Student Teaching and the Law; and the two-volume reference Section 504, the ADA and the Schools, now in its fourth edition. In 2012, he received the Research into Practice Award from the American Educational Research Association (AERA) and the Excellence in Research Award from AERA's Division A (Administration, Organization & Leadership). In 2013, he received the University Council for Educational Administration's Edwin Bridges award for significant contributions to the preparation and development of school leaders. In 2016, he received the Education Law Association's Steven S. Goldberg Award for Distinguished Scholarship in Education Law. In 2017, he received the Council for Exceptional Children's Special Education Research Award.
Dr Perry Zirkel's Webinars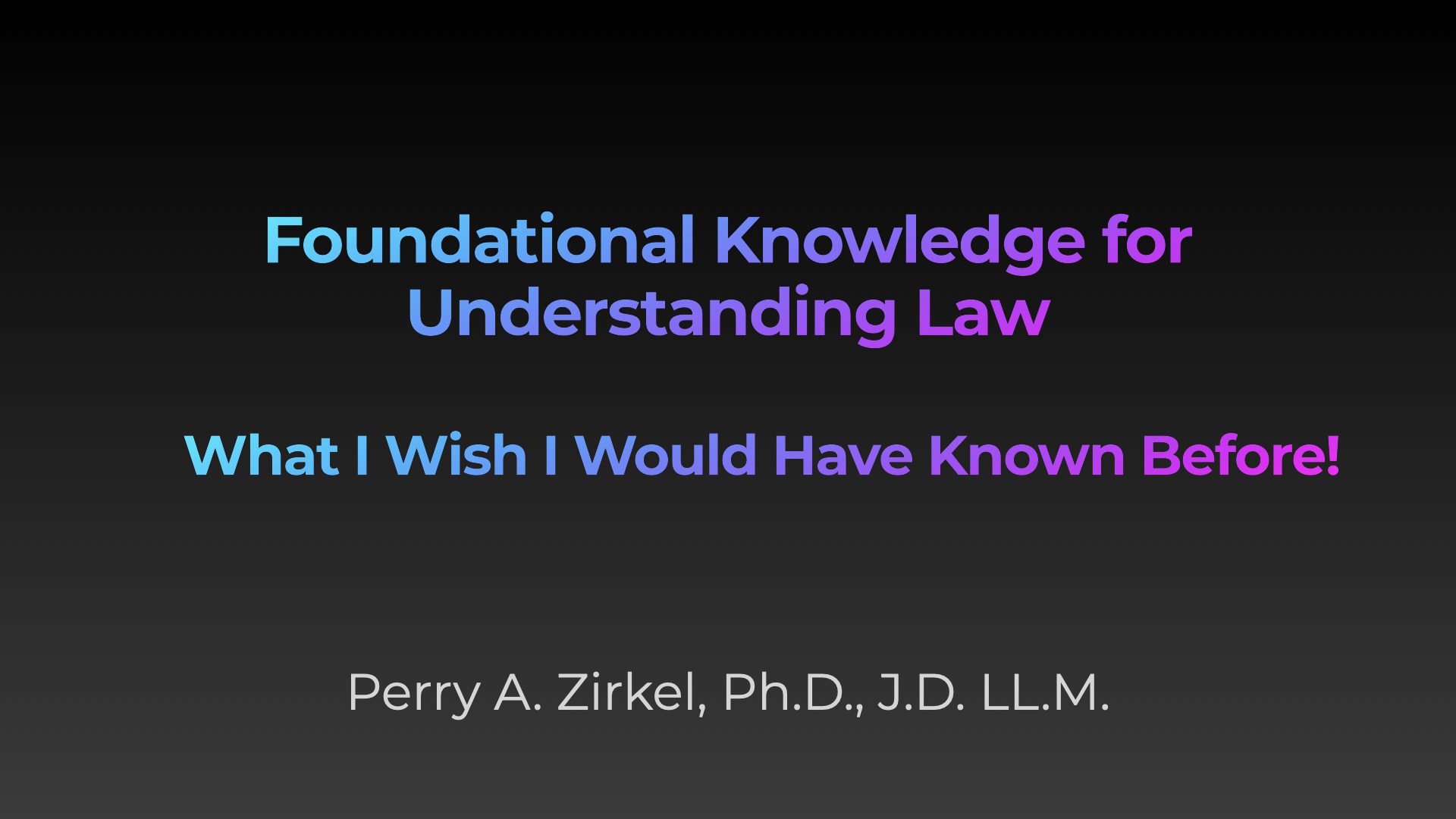 A Series of Practical Legal Essentials for Educators
Unfortunately, too many educators' legal knowledge about policies and practices for students with or at risk for disabilities is an accumulation of legal "lore."  That is, this lore is as much misinformation as fact and is acquired haphazardly by attending district-offered policy updates, 1 or 2 lectures in graduate classes, or participation in student IEP or 504 case studies.
Dr. Perry Zirkel, one of the country's leading legal scholars, offers educators 3 webinars to help discard lore and learn law. These 3 programs represent opportunities for analyzing the applicable legal requirements and developing defensible strategies to make effective professional decisions.
Foundational Knowledge for Understanding Law:
What I Wish I Would Have Known Before!
One of the first barriers in  addressing legal issues in education is the misconception that laws (a) are highly prescriptive and (b) represent best practices.
This 90-minute webinar provides the professional educator with attempts to dispel these myths through an explicit understanding of key vocabulary (e.g., "must" or "shall" in contrast with "may") and the systematic differences among the sources (e.g., federal as contrasted with the state) and levels of law (e.g., legislation in contrast with regulations) and their distinction from agency guidance and professional best practice.
This webinar will include examples of common confusions and
opportunity for Q-and-As.
1:00 PM – 2:30 PM Eastern Dates to be Determined -
Individuals $149
Teams of 3 or More $299
Foundational But Often Misunderstood Requirements for 504-Only" Students-AND 2023 **REVISIONS!!
This 3-hour webinar, important for any educator or parent interested in Section 504 but essential for administrators, 504 coordinators, and team members, focuses on the building blocks of an effective school program for students who are "Only" covered by Section 504 and its sister statute, the Americans with Disabilities Act (ADA). "Only" in this context means that these students are not also covered by IDEA.
The webinar reviews the differences between Section 504, the ADA, and the IDEA to avoid confusion in complying with these overlapping but distinguishable laws.
The webinar will highlight *proposed updates in Section 504, the first such updates since 1973 and its implications for school practice.
** As of September 1, 504 Updates have yet to be released.
Attendees will review Dr. Zirkel's system review of  3 levels of requirements under Section 504 
What is the  required grievance procedure?
What are the alternative avenues for decisional dispute resolution under Section 504?
Identification
How does Child Find apply under Section 504?
What are the key student eligibility standards and issues?
What are the reasons for avoiding under- or over-identification?
Issues of Free and Appropriate Public Education (FAPE)                                                 The legal standards and practical recommendations for 504 plans
This webinar includes forms and opportunity for Q-and-A.
1:00 PM – 4:00 PM Eastern
DATES To BE DETERMINED
Individuals $149
Teams of 3 or More $299
Section 504 Nuances and "Extending Issues"
Among the more challenging issues for educators is how to provide services for students who are so called "double-covered" students (i.e., those with IEPs under the IDEA and thus also covered by the broader eligibility criteria of Section 504 and the Americans with Disabilities Act (ADA)). Can you tell why these students present challenges?
This 3-hour webinar identifies both the IDEA and Section 504 obligations, where they intersect and where they conflict, and how schools can resolve these challenges. As one might expect, and you have experienced, these "double-covered" students have presented circumstances that have often been settled only through hearings and case law to offer schools guidance. Dr. Zirkel will review key outcomes that will provide you with policy guidance.
Extending Issues to 504-only, the webinar addresses:
What role does SRBI play?
What are the school district's obligations under Section 504 for parentally placed private school students?
What is the current meaning of the "substantial" eligibility criterion, including, for example, its application to students with concussions or student with "long" COVID-19?
Who are "technically eligible" students under Section 504?
How can a 504 coordinator say "No" in a way that is both legally and educationally effective to the parents of the student who is not eligible for a 504 plan?
Are students entitled to special education as part of a 504 plan?
What is the judicial standard and trend for "appropriate" 504 plans?
What is the meaning of COVID-19 "compensatory services" for 504-only students?
Extending Issues to "double-covered" students, the webinar addresses:
What are the current differences between the Office for Civil Rights and the courts in applying Section 504/ADA?
Is a 504 plan a "red flag" for child find under the IDEA?
Does compliance with IDEA requirements automatically fulfill the corresponding requirements under 504/ADA?
Are parents required to "exhaust" the step of a due process hearing under (a) the IDEA or (b) Section 504 before filing suit in court?
Are individual school employees, such as teachers and Section 504 coordinators, subject to liability under 504/ADA?
What is the prevailing standard for district liability?
What has been the recent trend of litigation under Section 504 and/or the IDEA for students with IEPs, including (a) retaliation, (b) CART, (c) service animals, (d) interscholastic sports, (d) "full integration," and (e) COVID-19?
This webinar will address common confusions and
Q-and-As.
1:00 PM – 4:00 PM Eastern
Date: Dates to Be Determined
Individuals $149
Teams of 3 or More $299