Alan Coulter, Ph.D. And His Current Webinar Offerings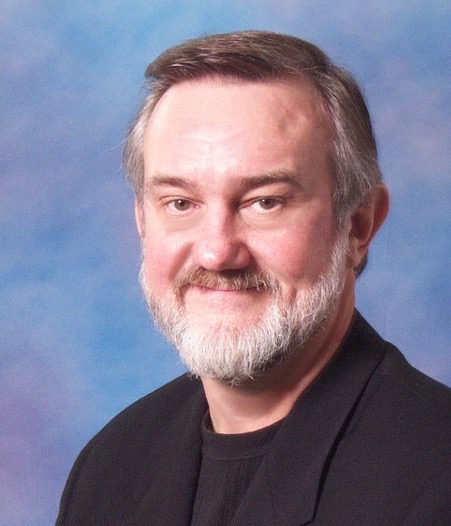 Dr. Coulter has spent his career supporting schools and state departments of education across the country to design and implement Multi-tiered Systems of Support (MTSS) and response to intervention (RtI). Among his many experiences, he was honored to serve among 14 distinguished members of the President's Commission on Excellence in Special Education in 2001-02. This Commission was very influential in the development of national special education policy today, including IDEA 2004. His special expertise is in organizational change and leadership, working with administrators, including principals and school teams, to ensure that schools provide quality early intervention services PK-12 including appropriate, nondiscriminatory identification of disabilities with fidelity.
Dr. Alan Coulter's Webinars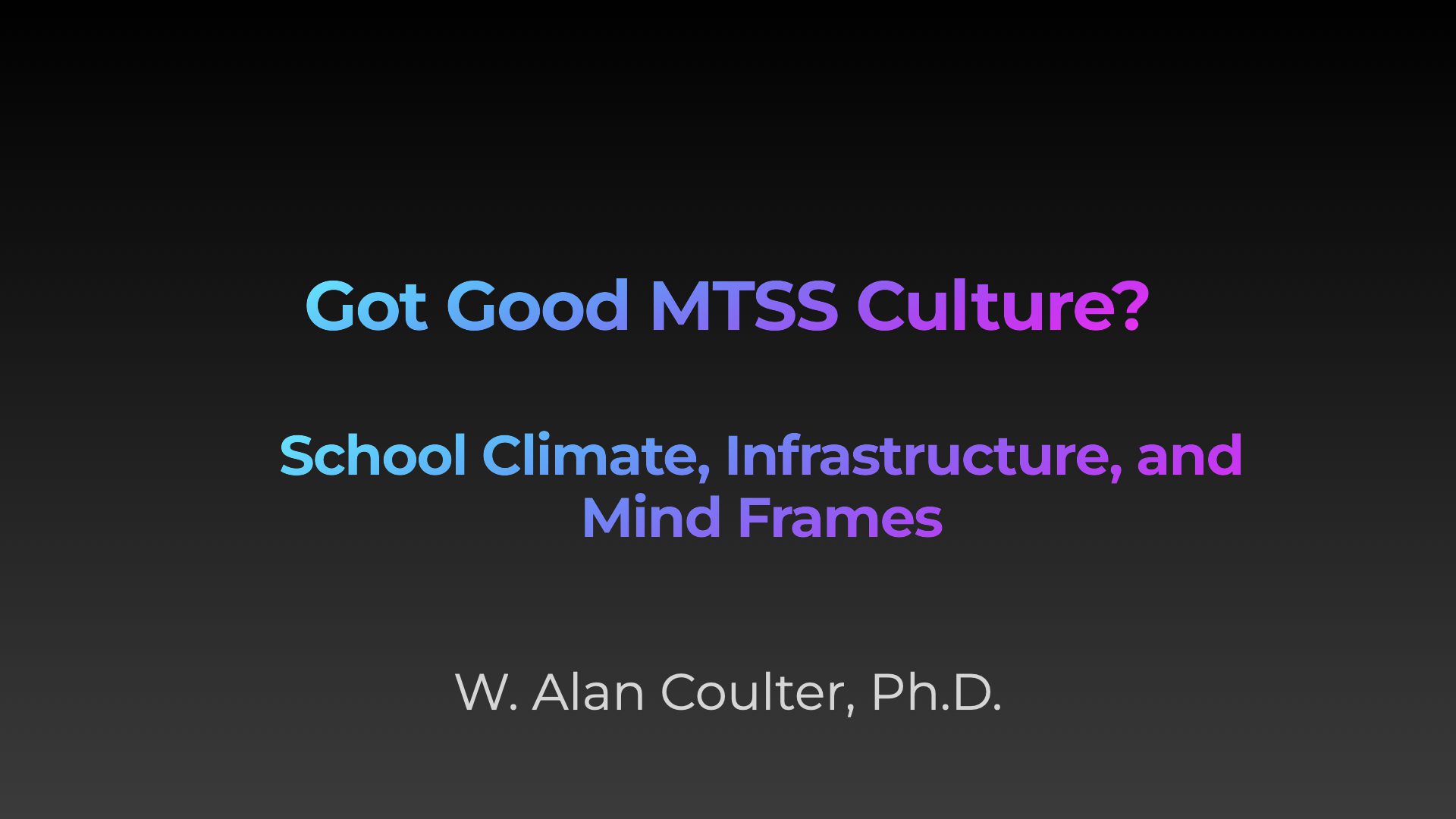 Got Good MTSS Culture? School Climate, Infrastructure, and Mind Frames
Implementing MTSS typically focuses on the whats and hows of assessment, decision-making, interventions, tiers, etc. However, without leaders and teams who build and sustain a positive school culture and climate and install mind frames for student success, MTSS implementation will not produce the desired outcomes. It fails without effective organizational culture. This webinar identifies how school leaders and teams can build and sustain an infrastructure and climate to support MTSS, including 10 mind frames linked to positive student outcomes. Participants will be able to evaluate their current MTSS implementation culture and climate and identify potential strategies for improvement in mind frames.
Opportunities for Questions and Discussion Will Be Provided
12:30 PM – 3:30 PM Eastern
Dates to Be Announced Soon
$49 per Person
$99 Per Team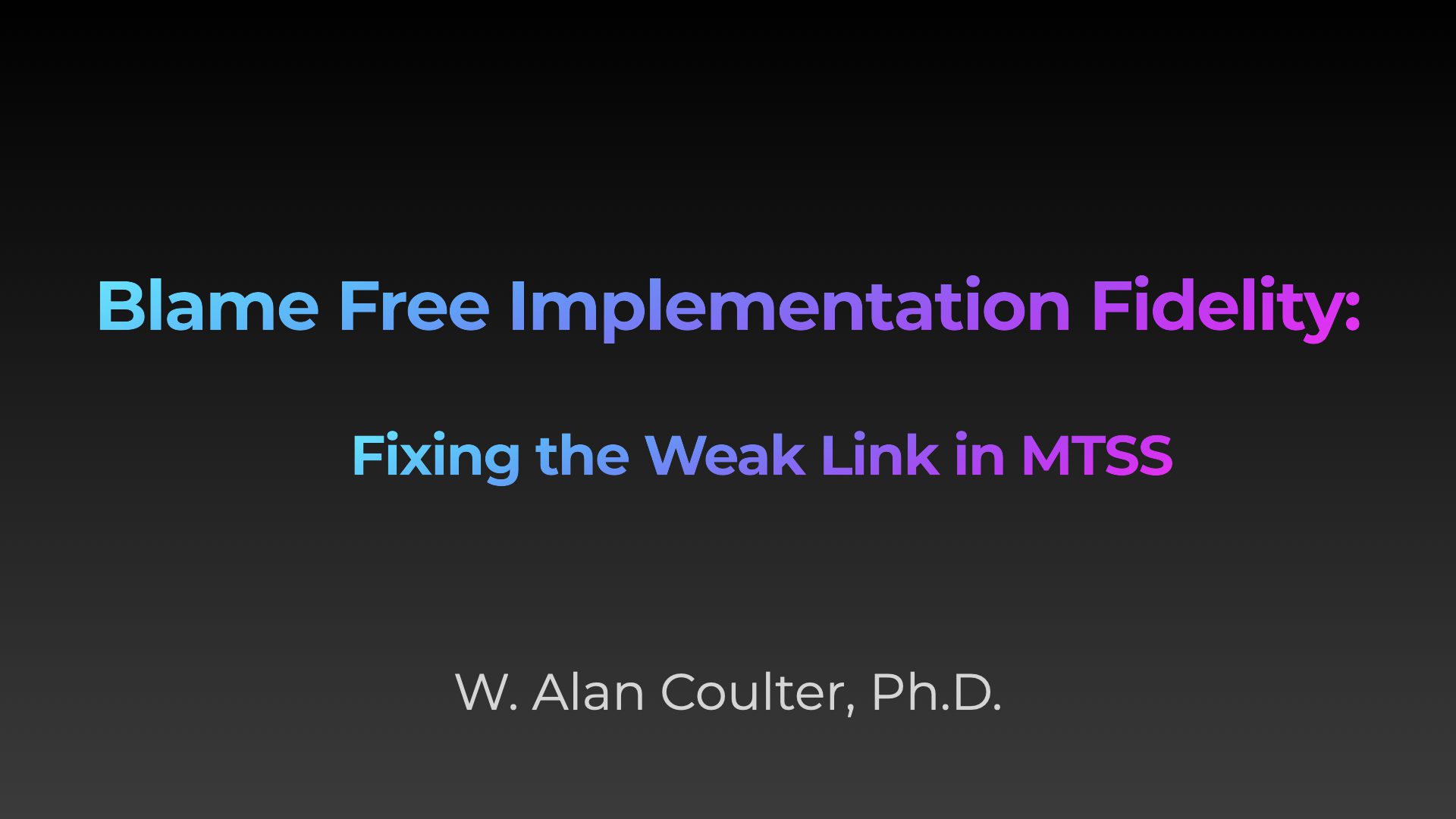 Blame Free Implementation Fidelity: Fixing the Weak Link in MTSS
The weak link in MTSS implementation is intervention implementation fidelity. When low fidelity is observed, the typical (but erroneous) cause is labeled teacher resistance. That is, teachers are "unwilling" to deliver the intervention like someone else would like. This perspective begins a contentious consultation relationship, or worse, the ability to objectively evaluate what's going on is impaired. This webinar flips the mindset about fidelity with three specific tools to enhance the relationships between the person(s) delivering the intervention and the persons responsible for ensuring implementation integrity to maximize student success. Webinar participants access a protocol and evidence-based steps to use in their school setting.
Opportunities for Questions and Discussion Will Be Provided
12:30 PM – 3:30 PM Eastern
Dates to Be Announced Soon
$49 per Person
$99 Per Team